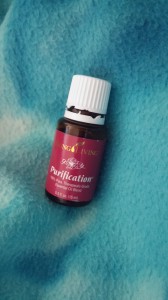 Purification is amazing! It's a blend of Citronella, Lemongrass, Rosemary, Melaleuca Alternifolia, Lavadin, and Myrtle.
It's in the homemade bug spray that I make (and it works great)!
I also use it on my bug bites to alleviate the itch.
Putting a couple of drops in the trash can help eliminate the stink!  (Especially diaper stink)
I have also been known to put a couple of drops in the washer and run (the load that's spent a bit too much time just sitting in there) a rinse cycle to refresh and eliminate the "moldy" smell.
When dinner has been burned, this has eliminated the after smell when we diffuse it.
My grandma smokes like a chimney, especially in her car.  While she was recovering from surgery, my aunt ran the diffuser with Purification in her car for three cycles.  My aunt said that it didn't completely eliminate the smell, but it was drastically better.
This is also a good addition when you diffuse Thieves!
The Essential Oils Pocket Reference 6th Edition says:
"This purifying blend cleanses and disinfects the air and neutralizes mildew, cigarette smoke, and disagreeable odors.  It disinfects and cleans cuts, scrapes, and bites from spiders, bees, hornets, and wasps" (pg. 169)
Share and Enjoy