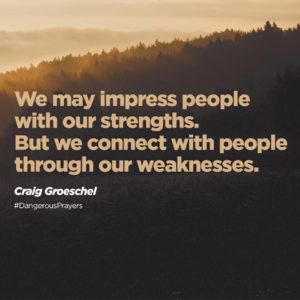 So true!  I remember, right after we moved, there was someone who I wanted to befriend.  She was going through something kind of tough, so I called to ask what they liked on their pizza.  I really didn't give her a choice.  When I dropped off the pizza, her house was not pristine!  It was lived in and honestly a little chaotic, but it was real.  Authentic.  I instantly felt more connected to her and instantly felt like I could be myself and that my weaknesses would be safe with her.  I know it sounds weird, but I was trying to bless her in that moment and she blessed me more than she will ever know.  She gave me a huge gift!
Share and Enjoy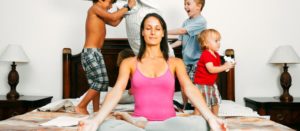 Thank you Care.com for the picture.
This is a new parenting challenge.  If not kept in check, it can get out of hand, but I'm assuming that if you're reading this blog, then you are probably, more than likely, a mom that gives too much of herself and doesn't hardly ever refuel.  This too is not good.  Just like almost anything, trying to keep it in balance is the key!
I have learned (oftentimes the hard way) that I am a better mom (and wife) when I am intentional about taking care of me.  Now, I still don't get a shower everyday, but I do my best to find some time for me!  I tend to be a home body, thrive on a lot of quiet and still (which doesn't happen much with 5 kids)!  I've learned that when I keep a few things in check, I get to maintain my inner peace more often throughout the day!
Water, Week 1
My first challenge for you is simple, it's just not always easy!  DRINK MORE WATER!  I know that sounds too simple, but I promise, your mind and body will work so much better if it's running on water!  Try to drink a full glass (10-16 ounces) first thing in the morning.  First thing!  (Ok, I usually hit the bathroom first, but then it's water time)  It's actually better if it's room temperature or a bit warmer, but if you like it cold and it will go down better for you, then drink it cold.  Your body will just absorb it faster if it's room temperature.  Want to amp up your morning water even more?  Add in some fresh squeezed lemon juice or Young Living Lemon Essential Oil (make sure it's a glass cup when using lemon oil).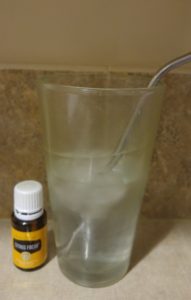 Start slow.  Start by replacing just one drink with water.  Then you can slowly work up.  It's a good "rule of thumb" to drink half your body weight in ounces of water (if you are trying to detox at all, add another 10 ounces).  So, if you weigh 150 pounds, your goal is to drink 75 ounces of water in a day.  I like to put the amount of water I'm striving to drink in a pitcher of water in the fridge.  It seems to be easier for me to stay the course and it's a great visual reminder and cheerleader through out the day!  I also will "reward" myself after reaching half of my water.  I will let myself have a cup of tea (or sometimes pop) to kind of break it up.  I've also found that when I put my oils (my favorite is Citrus Fresh) in my water, I consume more too!  On the plus side, when you start drinking more water, it naturally curves appetite and cravings.  Win, Win!  😉  I could go on and on about the benefits of water!  So start today, and start by replacing one "other" drink with water.  Slowly increase your intake each day so that by this time next week, you are at half your body weight in ounces.   Good luck and here's to a happier/healthier parent!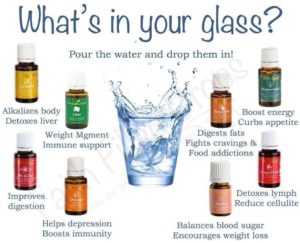 Please know where your oils come from!  Not all are acceptable to ingest!  Do your research!  Talk to your physician!
How did you do with drinking water this week?  I did great for three days and then I started to wean a bit. But I'm still drinking more than I was, so that's a great place to start!
Be Still, Week 2
I know this lends itself more to some personalities than it does others, however, we are human BEINGS, not human doings.  I'll admit, this doesn't always happen on the weekends, but during the week I'm up to about 20 minutes of just being still.  Sometimes I fall asleep, but I am quiet and still.  I like to do this right after I do my afternoon Bible Study, that way I can mediate on my study.  I try my best to clear my mind.  I usually say a prayer asking God to clear my mind for me and to give me the thoughts He wants me to meditate on.  However, I do have some paper near by in case things pop into my head that I want to remember or do and the thoughts become nagging and impossible to ignore.  I will just jot those thoughts/to dos down and then I can  try to refocus on a clear mind!  I started with 5 minutes and have slowly worked up.  The Bible Studies that I'm currently doing are: Keeping in Balance
, 21 Days of Prayer for your Business (you don't need the book, but it's nice to have.  There is a Facebook group that I can add you to if you let me know that you want to be added!), and In Touch, where I'm planning on reading through this New Catholic Answer Bible: New American Bible Revised Edition (NABRE)
in a year.
So your challenges this week are to continue to drink your water and to take time (hopefully) each day to just. be. still.  It's kind of like the water and after a while, it will become something you crave instead of something you try to avoid!
<iframe style="width:120px;height:240px;" marginwidth="0″ marginheight="0″ scrolling="no" frameborder="0″ src="//ws-na.amazon-adsystem.com/widgets/q?ServiceVersion=20070822&OneJS=1&Operation=GetAdHtml&MarketPlace=US&source=ac&ref=qf_sp_asin_til&ad_type=product_link&tracking_id=mylibiofli01-20&marketplace=amazon&region=US&placement=1943173028&asins=1943173028&linkId=e1f67e8bcf583a70a43199e538090c49&show_border=true&link_opens_in_new_window=true&price_color=333333&title_color=0066c0&bg_color=ffffff">
</iframe>
Share and Enjoy


Goal
The goal of this blog is to provide you with tips, tricks and resources to help make your life with children easier and more enjoyable! I want to share with you all of the things that have made MONUMENTAL changes in my life! The aspects of life I would like to cover are:
pregnancy
parenting tips
child development
couponing
marriage
Financial Peace University

I hope this blog will be very helpful and inspirational! I plan to post the good, the bad, and the ugly. I want this blog to reflect real life and not a fantasy, "everything is perfect" life! Come and share in my journey!!
Recent Posts
My Favorite Posts
Our Sponsors