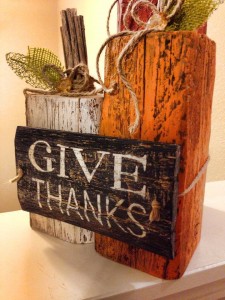 Thank you, The Pickled Elephant for the picture!
gatherings
grey salt caramels
grace
GPSes
garlic
What are you thankful for?
Share and Enjoy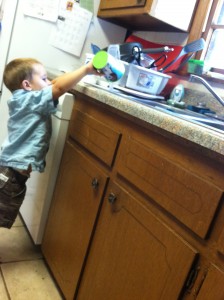 Catching your child(ren) being good goes a long way!  If done consistently it can ebb the need for discipline.  Many times children act up in order to get attention.  If you give them attention when they do good things, they may not feel the need to get the attention negatively. Doing this in conjunction with really Talking To Your Child, will do wonders for your child's self-esteem and helping them feel loved.  
Week 1
When you notice your child being good, take the time, stop what you are doing, get on their level, look into their eyes and tell them you are proud of them for making such a good choice.  Give them a hug and a high-five.
Week 2
This week, make sure your child overhears you saying something good about them to someone else!  (For example, call one of your parents and tell them something awesome that your child did while your child is in the room.)
Week 3
Take time everyday this week to point out your child's/ren's positive traits.  Pick one a day.  When you share, get on your child's level, look into their eyes, and hold their hands or touch their shoulders.  This would be a really good thing to do as you tuck them in bed.
Week 4
Get on your child's level and give them a hug.  As you hug them whisper a thanksgiving prayer to God for giving you such a wonderful child.
Share and Enjoy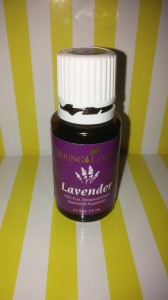 Lavender is known as the "Swiss Army Knife" of oils.  It does so much!
It's my first go to for almost any skin aliment.  When I first got my kit, I went around and added lavender to almost every bottle of lotion I had (even if it was already lavender scented!)
It's also great for stress relief, calming and sleeping.
It's part of the allergy trio!
It's amazing on sunburns.  (Young Living sells this spray called Lavaderm, it has lavender in it, it's amazing!)  I have extra bottles to make sure I don't run out of it!
I've also used the Lavaderm for razor burn!
I've put a couple of drops in my eyelash primer and I've noticed that my lashes appear to be darker and fuller.
Love putting lavender in my Epsom Salts for a nice, relaxing bath before bed.
It's the first oil I ran out of.
Lavender can "promote tissue regeneration and speed wound healing…" (pg 83).
"Antiseptic, antifungal, analgesic, antitumoral, anticonvulsant, vasodilating, relaxant, anti-inflammatory, reduces blood fat/cholesterol, combats excess sebum on skin." (pg 3)
The book recommending using it for: "Respiratory infections, high blood pressure, atteriosclerosis, menstrual problems/PMS, skin conditions (perineal repair, acne, eczema, psoriasis, scarring, stretch marks), burns, hair loss, insomnia, nervous tension."
*This is not intended to treat or diagnose any medical issues.  Please contact your physician with any concerns.
Share and Enjoy


Goal
The goal of this blog is to provide you with tips, tricks and resources to help make your life with children easier and more enjoyable! I want to share with you all of the things that have made MONUMENTAL changes in my life! The aspects of life I would like to cover are:
pregnancy
parenting tips
child development
couponing
marriage
Financial Peace University

I hope this blog will be very helpful and inspirational! I plan to post the good, the bad, and the ugly. I want this blog to reflect real life and not a fantasy, "everything is perfect" life! Come and share in my journey!!
Recent Posts
My Favorite Posts