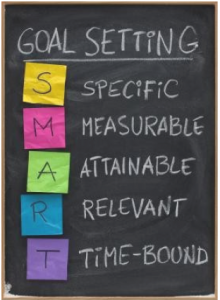 Thank you Money Saving Mom for the photo!
Ministry/Religion
Continue tithing 

(on-going)

Have friends over for dinner once a month 

(We had one family over and have invites out with four others)

Take meals to people who are sick or just had a baby 

(Added a meal to a collection for a sick newborn-he is better now!)

Volunteer at the kids' schools (Volunteered and cooked Banana Pudding in Rice Paper with the entire school!)  
Read 4-6 books (finished Rome Sweet Home: Our Journey to Catholicism)
Marriage
Read Moments With You: Daily Connections for Couples 

(We might have given up on this already)

Work out together
Read 4-6 books
Plan a monthly date (even if it's just at home) 

(We went out for Valentine's Day!)
Parenting
Start and implement a new bedtime routine 

(getting it done a few times per week)  

Be more intentional about planning dates with the kids (1-2/month) 

(each of the older four had one in January) (had a late night secret cupcake eating date with my daughter in her room & took one of my son's out for a lunch date in February)

Read 4-6 books
Personal
Take an Epsolm bath 1-2 nights/week 

(done)

Work out (try to swim &/or yoga) 1-2 times/week 

(not so much)

Go to bed by 10:30 PM 5x/week 

(getting closer to this, making it around 3-4x/week)

Two or more spa days
Finances
I need to get back on track
Pay off credit card 

(working on this)

Go through Financial Peace University Home Study
Go through The Legacy Journey DVD Home Study Kit
Prepare and implement a more realistic budget 

(prepared, now just trying to implement!)

Start saving for a fully funded savings, car, retirement
Home
Do 15 minute focus 5x/week 

(not so much)

Read 4-6 books 

(read Things My Grandmother Taught Me About Organized Living)
Blog
Post 3-4x/week 

(just the last few weeks)

Read 4-6 books
How are your goals coming along?
Share and Enjoy