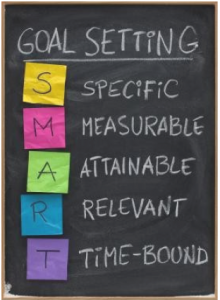 Thank you Money Saving Mom for the photo!
Ministry/Religion
Continue tithing 

(on-going)

Have friends over for dinner once a month 

(We have invites out with three others)

Take meals to people who are sick or just had a baby 

(yes, one)

Volunteer at the kids' schools 

(school's out for the summer!)  

Read 4-6 books (reading my devotionals & You're Made for a God-Sized Dream: Opening the Door to All God Has for You, Healing Oils of the Bible)

Marriage
Read Moments With You: Daily Connections for Couples 

(We  have given up on this already)

Work out together 

(nope, not at all!)  

Read 4-6 books (finished The Surprising Secrets of Highly Happy Marriages: The Little Things That Make a Big Difference,  Sex Begins in the Kitchen: Creating Intimacy to Make Your Marriage Sizzle, The Antelope in the Living Room: The Real Story of Two People Sharing One Life)
Plan a monthly date (even if it's just at home) 

(We watched a movie at home!)
Parenting
Start and implement a new bedtime routine 

(done this a few times this month)  

Be more intentional about planning dates with the kids (1-2/month) 

(I took one child out for ice cream!)
Personal
Take an Epsolm bath 1-2 nights/week 

(no, only got 1-2 in this month)

Work out (try to swim &/or yoga) 1-2 times/week 

(no)

Go to bed by 10:30 PM 5x/week 

(nope)

Two or more spa days 

(scheduled one)
Finances
I need to get back on track
Pay off credit card 

Go through Financial Peace University Home Study (I need to reschedule, we took June off)  Dave Ramsey's Complete Guide to Money: The Handbook of Financial Peace University 
Go through The Legacy Journey DVD Home Study Kit
Prepare and implement a more realistic budget 

(prepared, now just trying to implement!)

Start saving for a fully funded savings, car, retirement
Home
Do 15 minute focus 5x/week 

(not so much)

Read 4-6 books 

Blog
Post 3-4x/week 

(yes)

Read 4-6 books
How are your goals coming along?
Share and Enjoy