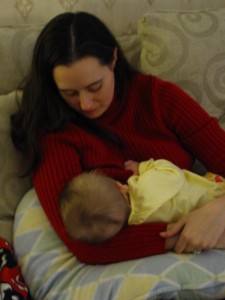 I want everyone to know that I really am an advocate for breastfeeding. I believe that "breast really is best." I nursed all of my children and actually wish I could have done it longer!
The Bad
However, I really could not fathom how difficult and painful it is! I am writing this post because if this is the stage of life that you are in, I want you to know that you are not alone! I was told by many people that if I was in pain, then I was doing something wrong. I really believed them when I was nursing my first child. However, now that I have had four children and had pretty much the same experience with all four five, I'm thinking, I kind of know and yes it HURTS! I mean if you really sit down and think about it, how could it not?  Aren't your lips uncomfortable when they crack and bleed? I think that having that same condition on a more sensitive part of your body, would hurt more, and then add to the fact that they can't get a break!
The Ugly
With every single one of my children I remember being in excruciating pain! My nipples were cracked and bleeding. I did everything that I was told to do: I put lanolin on after nursing and walked around with my bra undone to let them air dry (which somewhat helped). I tried to nurse more, but all to no avail! It hurt, it hurt so bad that I was crying (I'm sure hormones have nothing to do with this either! 🙂 ) I remember sobbing while I was nursing and telling my child that I was sorry. I was sorry that I was hurting and I was sorry because I didn't feel like a good mother. I mean, nursing is supposed to be a beautiful, natural thing, right?!
With my first, I remember it being very painful for about five weeks, my second about four weeks, my third about three weeks, and the last about two weeks. With everyone I remember looking at my husband with tears streaming down my face and telling him, "I'm not sure how much longer I can do this."
The Good
That seemed to be the magical moment. I had to get to that point with each one, but after I got to the place where I was so close to stopping, it seemed to get better, slowly! Then after a few months, it wasn't painful at all! For the most part, I really looked forward to nursing time. It was a time to bond with my child, a time to marvel at what a blessing they are, and a time to take in how little they are, how sweet they smell, and how soft their skin is. Towards the end of each child's nursing time, I found myself crying again, because I wasn't ready to be done, but my children were! With my last child I remember having the hardest time with this. When he was showing signs that he was done, I would cry. I was crying because I just kept thinking, is this going to be the last time I ever get to nurse a baby?!
Tips
With my fifth child, I was told to nurse for as long as possible because of his health issues.  Since it had been so many years since I'd nursed and I felt that nursing was paramount, I decided to cut to the chase and just get some help.  I took advantage of the free breastfeeding clinic that was offered at the hospital that I delivered at.  They were a huge help and I kind of wish I would have taken advantage of this service with my other children.  I left with a few supplies , more knowledge and more confidence.
Here is what helped me the most with my transition to nursing the fifth time (which was my easiest):
air dry as much as possible after a feeding
Medela SoftShells Breast Shells For Sore Nipples
Lansinoh Soothies Gel Pads, 2 Count (cut these in half or fourths to make them last longer)
the clinic also gave me a RX for a special ointment
check and see if there is a breastfeeding clinic in your area and take advantage of their services, the sooner the better!  🙂
have realistic expectations
make sure that they have "fish lips" when they are latched on
make sure their chin is touching your skin
wait until they open up very wide and then quickly latch them on (speed is the key!)
when latching them on, aim your nipple for the upper back part of their mouth
Any other tips you'd like to add?
Read my review here.
Share and Enjoy