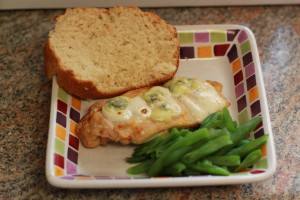 Marinade:
3/4 cup buttermilk
2 TBS paprika
2 TBS hot sauce (or more or less depending on how spicy you want it)
3-4 chicken breasts
(I usually make these into freezer meals, so I put all of the ingredients into a freezer safe bag and let it defrost in the fridge overnight)
To cook: grill or broil 5-7 minutes each side
add ranch dressing, a few drops of hot sauce and Gorgonzola cheese to the top of each piece of chicken and cook until the cheese melts (I have found this cheese at Aldi's and it's half the price as other places)!
I really like this because it is easy to customize. For instance, my husband likes his with more hot sauce and cheese than I do and I usually just put ranch dressing on top of the kids'.
(Gorgonzola cheese is pretty much a milder Bleu cheese)
This is one of my husband's favorite recipes! I hope you enjoy it!
Share and Enjoy