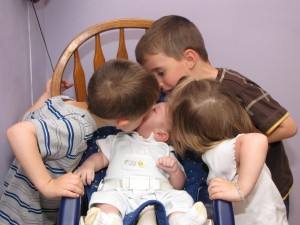 When my oldest, Andrew, was five and a half months old, we found out that we were pregnant with our second! I cried for a long time! I cried because I didn't know how we were going to make it with another child, but mostly I cried because I felt like I was ruining Andrew's life!
Could this be a good thing?
I felt like I was going to take his "babyhood" away. I know it may sound funny to some of you, but I was very distraught about this! Many people tried to comfort me and tell me that we were giving him a blessing, because siblings are blessings. At the time, I just brushed off the comments thinking that they didn't really know because they didn't have children this close together! I didn't truly understand what they meant until eighteen months later.
They were right!
I remember being at the park with my sons and being very pregnant with our third. They were playing so well together and it was then that I realized that siblings truly are a blessing! I realized that although Andrew's life did change a lot when Adam came along, I also realized that it really taught Andrew so much about life, so much about compassion, and so many other things that are vital to life. I remember sitting on the park bench, watching my beautiful boys playing so well together and I thanked God for all that he had blessed me with.
An Answered Prayer
I then suddenly felt very sad. I felt sad because at the time, we were not sure if our best friends were going to have another child or not and I felt sad for their son, Braden, not knowing if he would ever have this blessing! (It wasn't long after I had this feeling that they told us they were pregnant)! So while I may get dirty looks from people because I have so many children, I think of all the blessings that my children have and thank God for every single one of them!
Share and Enjoy