I LOVE Space bags!  I have a hard time getting rid of things and these have really helped me store more clothes in less space!  I used to put the clothes in Space Bags and then put them in plastic containers and stored them down in our basement.  Now that we have tons of clothes and I am hoping that we are not done having kids, I had to figure out a better way.
Tip
I decided to start putting the bags underneath my children's beds.  This works great and it also makes it so that they can't shove as many toys underneath their beds when they are cleaning!  😛
Preferences
I have found that I like the Cube shaped storage bags the best.  They are much, much easier to fill and if you are storing them in plastic containers, they fit much better in my opinion!  You do have to be careful because these bags can rip.  We've only had one or two rip.  Some of the bags have a zipper to help close it and others don't.  I like the type that have the zipper because I cannot get the other ones to always close all the way and then they don't stay condensed down.  However, I have not found out how to tell if they have zippers or not before opening the box of bags.
Time Saver
When I store them under the beds I put the bottom of the bag facing me if we will not be using them until we have another child.  If they are a size that I will need soon, then I put the top of the bag facing me.  That way I do not have to search every bag for the label that tells me what size it is!  I usually use the Extra Large and the Jumbo size.  I have found that the other sizes are really too small to hold much!

(Amazon affiliate)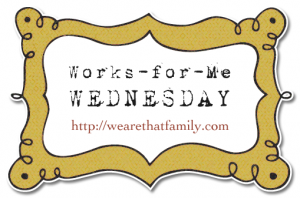 (Space Bags is in no way compensating me for this post, I just really like them!)
Share and Enjoy