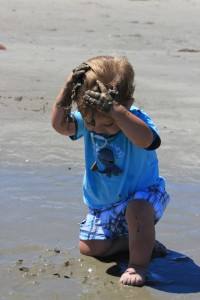 This summer my in-laws offered to pay for hotel stays if we went on a family vacation to Texas.  We would be responsible for gas, food, and activities.
My husband and I really wanted to go because it had been five years since our last vacation.
Plan
We sat down and estimated how much it would cost in gas to get there.
We researched activities that we thought our family would like and their cost.
I signed up to receive daily e-mails from deal sites like Groupon, Living Social, Red Plum, etc for the cities we would be visiting.
We wanted to have $1000 for our vacation and we had about 9 weeks to save for it, so we had to save$225 per paycheck.
I set up a separate checking account with its own debit card and started transferring money into the account on payday.
We also made a "vacation envelope" that I would put a few dollars in, here and there, if we had a little extra in a budgeted category.
Memories
We had a great time on vacation and we were really able to enjoy it and make some wonderful memories, knowing that we would not be paying for this vacation once we returned home.
Share and Enjoy