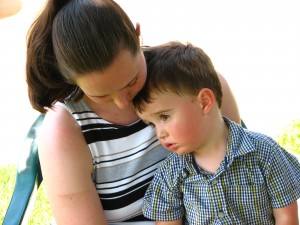 We all have our different parenting beliefs.  Each of us have beliefs that are considered "right" and "wrong," depending on many things.  We will not all agree!  That being said, here are some of my beliefs (not an all inclusive list).
I believe (in no particular order):
children need to FEEL unconditionally loved, appreciated, and worthy.
Children need to know, without a shadow of a doubt, that their parents love them.  This love is not conditional; it doesn't depend on being good, getting good grades, being a star athlete, etc.  Telling children you love them isn't enough.  You need to spend quality time with them, doing things that interest them.  Parenting isn't about just providing basic needs; they need to feel loved, appreciated and worthy.  (More on adult hierarchy of needs.)
children learn more from experience (what they see) than from what they hear.
Children pick up more from our behavior than from our lectures or reminders.  "Actions speak louder than words."  If we speak demeaning to our spouse, but then tell our children to be nice/talk nice, they will more than likely speak disrespectfully.  This is one good reason to always strive to be a wonderful role model.
children learn from mistakes.
With the above point being said, children don't need us to be perfect.  They learn from their mistakes, as well as, from our mistakes.  Children need to see fair fighting, asking for forgiveness, properly handling stress, properly handling money, etc.
that most of the time natural consequences are the best way to teach children.
Sometimes natural consequences are not appropriate because they may take too long for the child to learn or in order to learn from natural consequences would be hazardous or even deadly.  However, for the most part learning what will really happen in real life is the best way to learn, then they aren't as surprised when they get out on their own.
children need to learn how to make choices

.

They need to learn (from an early age) how to make choices.  They also need to learn that every choice comes with a consequence; good or bad.
it takes a village to raise a child, but that God gave me the primary responsibility to raise my children.
Parenting requires "outside" help.  No one can do this job alone and do it well.  Ask for help; from God and others around you.  However, don't blame others.  It is not a teacher's job to teach your child civility, morality, respect, etc.  While much of what they do contributes to those, it is not only their responsibility.  They are great resources to ask for help.  I believe that extracurricular activities come into play here.  Other activities teach many important skills: teamwork, perseverance, hard work, how to learn from and respect authority that isn't family, what they are good at/not good at, etc.  However, I believe that many families are over scheduled and that can also be a detriment!
"sheltering" your children from the evils of the world can be detrimental.
There are many evil things in this world.  I believe it is the parents' responsibility to; bit by bit; reveal some of them to their children at developmentally appropriate ages and stages.  I want to "teach" my children about them during a period of time when they will listen to me, when they trust me, and when I still have some positive influence on them.  I do not think it is healthy to "shelter" children from these experiences/knowledge and then expect them to be thrown into the world (and all the evils of it at the same time) and know how to deal with them on their own.
children need to learn that life isn't fair.
Life isn't fair, nor will it ever be.  They need to experience it, to some degree, as a child.
set and consistently reinforce realistic and developmentally appropriate expectations

.

Being consistent as a parent is so difficult.  It is often much easier for "outsiders" to see our inconsistencies, than it is for us to detect them.  Setting developmentally appropriate expectations that help a child learn and grow, but are realistic in the fact that they can be successfully completed, is paramount.  Not only does this help with discipline and growth, it helps a child learn that when you work at something, you can achieve it (helping them gain self-confidence and other attributes), and that not everything comes easy.
that the ultimate goal of parenting is to raise a responsible, considerate, giving, and loving adult.
Children are not here to meet all of our needs.  I know it can be heart wrenching to "let go" sometimes, but it's what's best for the child.  "One of the hardest things in life is learning when to hold on and when to let go."  I believe this correlates so much with parenting.
How do you feel?  What are your beliefs?  (Let's keep these comments respectful, please, I do approve them before they post!)
Share and Enjoy