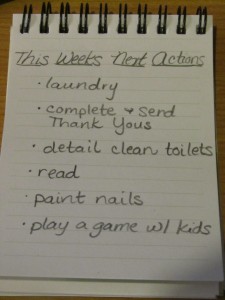 Last week was pretty crazy.  My goals for this week are to at least get caught up with 2-3 things.
The things that I'm behind on are:
laundry
couponing
reading to the kids
my devotional reading
my general reading
the buffet
craft table
laundry room
e-mails
blogging
putting up 3T clothes, my winter clothes and finishing getting out 2T clothes
making appointments
I am going to try my hardest to make a dent in all of these, but I'm going to choose 2-3 (right now I'm thinking reading, craft table, and appointments) to really focus on this week.  I hope to get a lot more than that done, but it's going to be another busy week and weekend.  I am going to try and focus on each area for at least 5-10 minutes each day and choose one main area for 1-2 days to really spend time on (30+ minutes).  There are so many things that I would like to do, however, with my house being in such disarray, I'm having a hard time concentrating.  I tried doing my devotional reading earlier today, and it was almost useless because I couldn't focus.
My husband and I were able to go on a date this weekend.  We also had company and went to an outdoor western museum so we had some quality family time this weekend as well.  I hope you all had a great weekend.
Besides the above focuses for the week, I am scheduling a lunch date with one of my children and we hope to go to another museum this weekend before our free coupon expires!  😉
What are your goals for this week?
Share and Enjoy