I did not go shopping this week!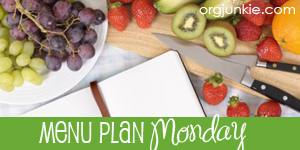 Visit I'm An Organizing Junkie for more menu ideas!
Menu Plan
Breakfast:
banana & blueberry pancakes (x2)
egg muffins
eggs & bacon
Morning Glory muffins
waffles
blueberry cheesecake muffins
Lunch:
lunch meat roll ups (x2)
Paleo chicken nuggets, frozen veggies, fruit
pepperoni & cheese tortillas, frozen veggies, fruit
leftovers
cheese, crackers, & pepperoni
out
Dinner:
Pecan Chicken
pizza
out
ground beef with onions & zucchini
meatloaf
taco lettuce wraps
Print your coupons before you head to the store!!
Check out Recycle Bank for coupons too!
New to coupons? Check out my coupon section on my blog and my coupon routine!
(affiliates)
Share and Enjoy