Personalization Mall is one of my favorite places to buy presents!
My brother is getting married this year and this past weekend was their bridal shower.  I bought and personalized the frames pictured in this post.
They have so many cool gifts.  I would also recommend getting some of these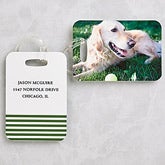 to put on your diaper bag to help when you take the kids to a MDO or other drop in daycare.
They really have amazing products.  I am amazed that it doesn't take much time for them to make and send out their products.  I even messed up on the personalization of one of the frames for my brother.  I contacted them and told them it was my mistake, but asked if they offered a discount or something for when that happens.  They told me to order the item again and to send them the order number and that they would take 30% off the original price for me.  I did this and hoped and prayed that it would arrive in time for the shower, and sure enough, it did!  I was very happy!
I am an affiliate of Personalization Mall, however, I sought them out because I have been so pleased with them before I even started my blog.  They did not ask me to write this post nor have I received anything other than affiliate compensation if someone buys anything from one of my links!
Shopping and buying these presents for my brother and soon to be sister in-law, reminded me of how much I love this company and their products.  Please take a look around their site and see all they have to offer!
Coupon Codes
Save $10 On Back to School Orders when you purchase $50 or more with code SCHOOL10 at checkout at PersonalizationMall.com

Save 15% All Summer Long with code SUMMER15 at checkout – Valid 7/8/12 thru 8/31/12

20% Off All Regular Priced Wedding Gifts with code WEDDING20 at checkout – Valid 7/1/12 thru 7/31/12
Share and Enjoy