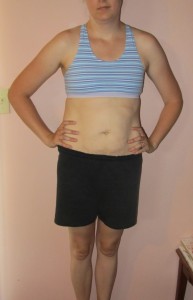 Taken at the beginning of the month before I started weight training.  I believe I weighed about 133 to 135 lbs.
For the past two weeks I have been weight training.  I downloaded this free app on my phone.  I have not been pushing myself all that much, if I can't do all the reps with proper form, then I make sure that I don't advance in weight.  I know it might sound strange, but I did notice a difference in just 6 sessions!  I have been a little discouraged that no one else has noticed, but oh well, that will come!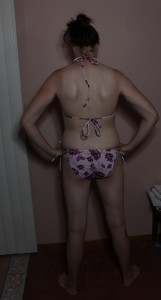 My friend suggested taking pictures because she said that she noticed a change in her pictures first!
We had a week that I did not really adhere to my diet and I could really tell a difference.  I was just tired all the time and I felt very bloated and heavy!  I am still trying to figure out what works for me and my family and what doesn't.  I've been told that this takes a lot of time.
I am still missing quite a few things from my diet, I'm missing a lot of the breakfast foods that I love.  I am still trying very hard to listen to my food voice, stop when I'm not hungry or have reached the point of diminishing return.
I have gotten away from eating a salad everyday, and I really need to return, I can tell a difference.
Beginning Paleo
I felt like in the beginning, my life revolved around coconut.
coconut milk
coconut flour
coconut oil
shredded coconut
and at the time, I was using a coconut body wash, I guess it's good I like coconut, however, a lot of the food doesn't taste like coconut, unless it has lots of shredded coconut in it!  😉
My Stats
I got down to 130 pounds for a week or so, but I think I'm on a steady climb back up.  The last time I weighed, I was around 134, but it's been a week or so.
I am:
Squatting 65 lbs
Overhead Press: 45 lbs
Deadlift: 105 lbs
Bench Press: 45 lbs
Barbell Row: 55 lbs
My Goals
I don't have a specific number I want to weigh, that's not what it's about for me.  My goals are to:
be healthier
feel better about myself
be a good example to my kids
be stronger
Share and Enjoy