It's that time again, many schools will be starting soon!
Here is a good post from last year: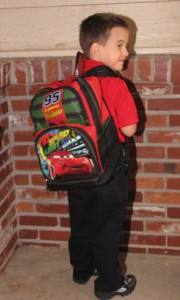 If at all possible, I like to start "getting ready for school" about one and a half to two weeks before it actually starts.
Routine
The routine is the main thing that I try to get back on track. To get back to our school routine I:
make sure that the kids go to bed no later than 8 PM
try to get the kids up in the morning at the same time that they will need to be up for school
try and have the school kids ready and dressed by the time they should be walking out the door for school
Supplies
This is actually an area I tend to work on all summer, especially since they have to wear uniforms.
I usually take the kids out individually on a "date" to get their supplies. We usually will go eat lunch and then go pick out supplies.
When we get the supplies home, they put them all in their backpack so that we do not loose them before school starts.
(I remember this is how my mom did it too, and I would always ask her if I could look at my school supplies. She would usually let me organize and reorganize them as long as I stayed at the dinner table. I know, I'm a nerd!) 🙂
How and when do you start to prepare your kids for school?
Share and Enjoy