Since I'm just getting back into the swing of things, I thought I'd review some of the books I've read since December.  🙂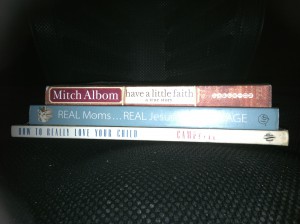 This is a true story about the journey a man (who has drifted from his religion) takes when his rabbi asks him to write his eulogy.  A very heart warming story of faith.
My favorite quotes were:
"And, as is often the case with faith, I thought I was being asked a favor, when in fact I was being given one" (2).
"faith is about doing.  You are how you act, not just how you believe" (44).
Read a more extensive review here.
I love his books and usually finish them in just a couple of days.  I have to be diligent that I do not forget my responsibilities when reading his books.  Luckily, I read this book when I was sick, so I got through it in a day and a half.
This book is about how a women leaves her abusive husband who is also a detective.  She learns to trust and love again.
I have not seen the movie yet.  I usually watch the movies and then get disappointed because they leave so much of the book out of the movie and change things a little bit.  I wish the movies did a better job of following the books.  🙁
Read a more extensive review here.
This is an amazing book.  I know I will be reading it over and over again.  I have a very bad habit of making elaborate plans to get things organized, dive right in, work like mad for a few days, get burned out, discouraged, and overwhelmed, and then quit before I really get much done.
This book is an answer to my prayer.  It is a step by step plan on how to get things done effectively.  When I started this book, I had the intention on unpacking and getting my craft area set up and organized in our new house.  After a couple of weeks, I started feeling pregnant, got sick, and we didn't have the finances to finish it the way I wanted.  So needless to say, I pretty much just read the book and didn't back it up with any action.  However, when I was reading, I pictured what I would be doing if I had the time, energy, and money to do so.
When the time and finances allow, I will pull up this book on my Kindle and get to work.  I have no doubt that this book will help me find the balance of getting enough done to stay motivated, but not overdoing it and getting overwhelmed.
Read more here.
This book was very different than I expected it to be.  It is very good and it took me a lot longer to read than I had anticipated.  I figured out really quickly that I preferred to read it slowly and really digest and think about each chapter for a few day before diving back in.  I got so much from this book that I plan on devoting and entire blog post to this book very soon!  🙂
I love this book.  This book confirmed many things that I already suspected and truly believe.  Many of these beliefs are the reason for this blog and my inspiration to one day write my own parenting book.  This book is short (140 pages) and a very quick read.  I liked this book so much, that I plan on devoting a whole blog post to it in the very near future.  Stay tuned!  🙂
Share and Enjoy