Here is a list of our favorite Christmas books!  All but 1 are for children.  These are not necessarily in any specific order!  I will be adding to this post over the next week!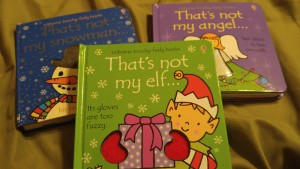 Usborne That's Not My… My 3 year old still loves these books!  They have a "touchy-feeling" section on each page!  They  have big, bold illustrations that are able to capture smaller children's attention, but short enough that you can actually get through the book before they lose interest.  In the video, I said 12 months, but I bet 6 months and up would really enjoy these books.  If you don't already have an Usborne consultant, check out one of these ladies; they are both my friends and would love to help you!  Orders for Usborne need to be placed by December 3rd or 4th I believe!  Amy & Tamara
I really enjoyed The Greatest Gift last year, so I'm reading it again this year!  (Which is something I usually don't do!)  I have recommended this book to several people.  There are 25 days of reading with each day averaging around 5 pages of reading.  There are reflection questions for each day.  I thought this book was very thought provoking and I wrote lots of quotes and scriptures on note cards to use as bookmarks throughout the year!
We read and started this tradition a couple of years ago and the kids absolutely love it!  Jesus' gift sits on our fireplace mantle and we add to it throughout the month!  It is the first gift that gets open on Christmas!  This year we appear to be getting "Christmas" out in bundles (so far we have our tree up and some of the lights on the house and that's it so far)!  We have yet to get The Sparkle Box out and the kids have already asked about it!  Hopefully we can finish getting out our Christmas stuff this weekend and set this on the mantle.
We have loved these books for years!  There are  by the same author and illustrator.  These books all rhyme and have big, bold illustrations.  Ours have been very loved and are starting to look rugged.  In fact, we can't find all of them right now.  I've given these as gifts before and always receive rave reviews!  I hope you check them all out!
Jesus, Me, and My Christmas Tree

My Christmas Stocking: Filled with God's Love

J Is for Jesus: The Sweetest Story Ever Told

A Star for Jesus

My Christmas Gift

Christmas Angels
This book is so cute!  Our Little Deer is geared towards infants.  It has rhyming text and big, bold illustrations.  This book is all about how a baby makes a home full of love.  While looking at Amazon for this book, I came across another by the same author.  I'll have to look into getting this I Love You Snow Much!  

Share and Enjoy