We are done with Baby Step #3! (We actually finished this in December, and I just realized that I never wrote a post on this).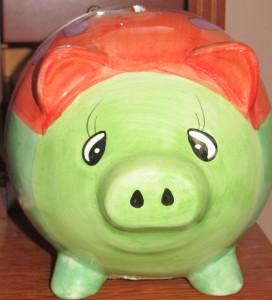 Baby Step #3
We have finished up our 3-6 months savings! 🙂 Dave Ramsey recommends having this money put into a money market, but right now we have it in a high yielding saving account. I will probably be looking into other options to make sure that this is the best place (that we feel) for it.
Next Step
Baby step #4, is investing 15% of your income, however, we are taking a little detour right now. Our goal now is to save up enough for a down payment on a bigger house. We would really like to move and move soon, so we are working pretty hard to make this dream a reality. We are looking at saving for about two and a little over a half years! 🙂
Right now, this almost seems impossible. I have really been struggling with doubt about weather or not we are going to be able to accomplish this, however, we both really want this, so we will keep on plugging away! We do plan on rewarding ourselves every once in a while (hopefully with a few weekends away)! 😉 We are also planning a small family vacation around the time my brother gets married this year.
I posted this on Facebook the other day, I really love this. It made me tear up and hope that my husband and I will be able to do something very similar one day! 😉

How is your financial journey coming along?
Share and Enjoy