Reindeer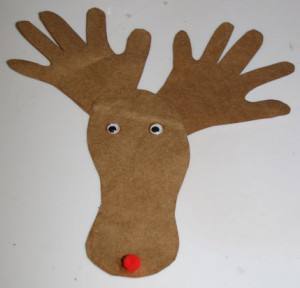 You will need:
brown construction paper (or brown paper bags)
wiggly eyes
red pon poms
scissors
glue
crayon or pencil
Steps:
trace child's hands with fingers spread apart
trace their foot with their shoe on
cut out foot and hands
attach the hands to the fattest part of the foot
turn project over
attach the wiggly eyes with glue
attach the red pon pom at the bottom of the foot for the nose
I did this in a matter of minutes with my three oldest children. I cut everything out because my kids are still young. Cutting out hands can still be difficult for first graders!
Share and Enjoy