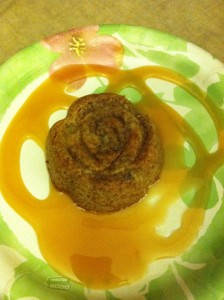 I love this cupcake!  I like to eat it with caramel, everyone else in my family likes them plain.  Whenever I make these, I'm always asked for the recipe, so here goes!)
I got the recipe from: (Pampered Chef calls them Sticky Caramel Mini Cakes)
SEASON'S BEST RECIPE COLLECTION fall/ Winter 2006 (this is such a good collection, there are so many I still haven't tried but really want to and a couple that I make All. The. Time!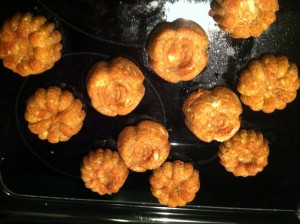 Ingredients
3/4 c buter (not margarine)
1/2 c toasted pecans (I usually use more!)  😉
1 and 1/2 c flour
1 tsp baking powder
1/4 tsp salt
1 and 1/4 c packed brown sugar
2 eggs
1/2 tsp double strength vanilla (or I just use 1 tsp of regular)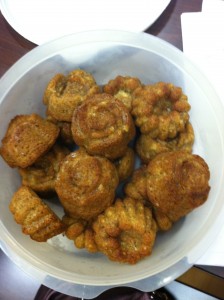 Steps
preheat oven to 350 degrees

Spray Silicone Cupcake Pan and set aside
microwave butter 30 seconds at a time until melted, set aside
combine chopped up pecans, flour, baking powder and salt, mix well and set aside
add brown sugar, eggs and vanilla to the butter and whisk until smooth
add butter mixture to flour mixture and stir until just combined
using a large scoop, place a level scoop of batter into each well of pan
bake 18-22 minutes or until golden brown
remove from the oven and let cakes cool for 5 minutes in the pan
Enjoy!
These are so good.  I've bought a few other festive silicone cake pans for different occasions!
I have learned not to make more than two batches at a time!
We also love this sauce on ice cream
Pampered Chef did not contact me to write this post, I just really love these cakes!!
Amazon links are affiliate links!
Share and Enjoy