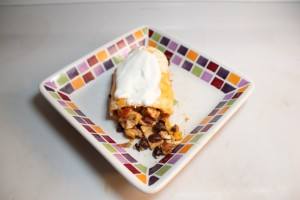 We had Fiesta Chicken (or arroz con pollo) the other night for dinner!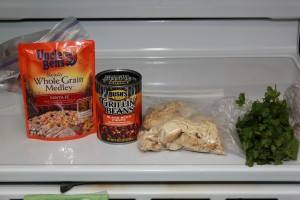 Ingredients:
Uncle Ben's Santa Fe Ready Rice (or you can just cook rice in a cup of water and a cup of salsa)
Bush's Black Bean Fiesta Grillin' Beans (or you can add a can of black beans, 3/4 cup corn, 1/4 cup red peppers)
shredded cooked chicken (I used 3 small chicken breasts)
FRESH cilantro (to your liking) (approx 3 TBS)
shredded cheese (approx 2 cups)
tortillas
sour cream
Directions:
Combine rice, beans, chicken, 2 TBS of cilantro, 1 cup of cheese and mix together. Cook at 350 degrees for approximately 25 minutes. Sprinkle 1 cup of cheese on top and bake another 5 minutes until cheese is melted. Garnish with cilantro and sour cream!
When I made this as a casserole, my family wouldn't touch it!! When I put two muffin scoops of the mixture into tortillas and rolled them up into burritos, they couldn't get enough of them! When I make the burritos I still melt the cheese on top. I love cilantro, so I add about 1 TBS of FRESH cilantro into sour cream and put that on my burrito.
All measurements are approximate, I do not measure things out, I just dump it in! I usually add more corn to ours. I would like to add more beans, but my family doesn't care for beans. When I made this as a casserole, I also made sweetened corn bread (just add 2 TBS of sugar into cornbread mix)!
Share and Enjoy