| | | | | |
| --- | --- | --- | --- | --- |
| 2 years old | 3-4 years old | 5-6 years old | 7-8 years old | 9-10 years old |
| Pick up/sort toys with guidance | Sort laundry and silverware | Mate socks | Load the dishwasher | Start simple cooking/baking |
| Brush their teeth (you will need to re-do it) | Put up their own clothes | Clean sinks | Clean bathtub | Clean the kitchen |
| Help with laundry* | Fold towels | Clean toilets | Take out the trash | Laundry |
| Put their dishes in the sink/on the counter | Clean up spills | Bathe themselves | Sweep, vacuum & mop | Wash the car |
| Hold open the door | Set the table and Wipe down the table** | Pour drinks, cereal, etc. | | |
| Throw things away | get toothbrushes ready | Fold clothes | | |
| Dust with a sock on their hand | Clean storm door & mirrors | Bring in groceries and put them away | | |
*All of my kids have loved to help me get things out of the dryer and laundry baskets, this was always a HUGE help when I was pregnant!!
**They can also help wipe down the fronts of counters and appliances, let them get the stuff down low, they're closer!!
Each year they should be able to improve how well they do each chore.  As far as the amount of chores, I think that one to two chores per year of age is a good guideline (so a two year old can be expected to do two to four chores).  Of course as they get older, they can do more chores.  For the younger ones, I consider brushing their teeth a chore (and most parents know, this is truly a chore to get them to brush their teeth or for them to let you brush their teeth when they are done)!
This is a guideline, not set in stone!  Each child is different.  My first and third were able and wanted to do more chores earlier.  My third was able, but hardly ever willing to do chores!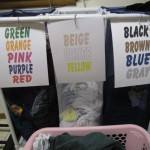 Tips:
label bins/baskets with pictures &/or words to help with sorting toys & laundry
Clorox wipes/Windex wipes are amazing!  Kids can help with more because they don't have to spray anything, just make sure they wash their hands when they are done cleaning!!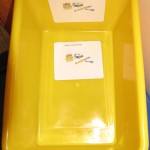 (When I first made the signs for the laundry sorter, I attached them with safety pins right onto the bag.  I then realized that attaching them to the rod of the sorter with a metal ring would be better so that when I wanted to wash the bag, I could just throw it in and not have to remove the sign first!!)
(I put two labels in the tub, one at the bottom so that they know what goes in there after they dump the entire thing, and one at the top so that they can see what goes in it if it is in the stand.)
Check out this cool chore chart! Thanks Confessions of a Homeschooler!
What chores do your kids do?
Share and Enjoy