Why Buy a Premium Kit
The Premium kit is the best way to get started!  It's an outstanding deal with a savings of over 50%!  If you buy a kit you do NOT have to ever sell anything.  Buying a kit is like buying a membership to a wholesale club; it allows you to order your oils at the wholesale price!  The Premium Kit comes with a diffuser, eleven 5 mL bottles of essential oils and samples!  It really is the best way to get started in using essential oils.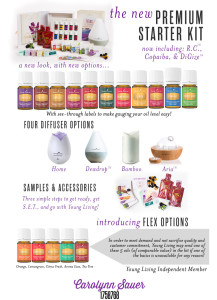 Directions
To order your kit, you become a member. Please don't let this scare you! Members get their oils at 24% off. When you do become a member, you are never required to order a certain amount of products a month. You are never required to tell anyone else about Young Living. To become a member, you sign up and order a starter kit. When you are signing up, you need to enter either your social security number or a tax id number. These numbers are ONLY used if you decide that you want to start selling oils. No one will push you to sell the oils or bother you about it unless you decide you want to do it! Think of it as a membership like you have to Sam's Club or Costco that allows you to purchase items at a discounted price.
Below you will find the link to the sign-up page and you will find step by step directions to get checked out and on your way to oil awesomeness!  I am so excited for you to experience these amazing oils.
Step 1: Go to
https://www.youngliving.com/signup/?isoCountryCode=US&sponsorid=1758768&enrollerid=1758768
Step 2: Make sure "Young Living Wholesale Member" is marked with a teal dot (clicked on) instead of "Retail Customer." Wholesale Member is the only way to get access to the kit and the 24% discount you get afterwards. It's really important!
Step 3: Make sure my number (1758768) is listed in the blanks.
Step 4: Fill out all the information. It will ask you for your SS# but this is only for legal purposes so that you have the ability to sign others up for kits too (Young Living is a referral based business). If you never sign anyone up, your SS# will never be used.
Step 5: Make sure you write down your pin, user name and password when you choose it because you'll need that in the future to log into your account. Write the PIN down—many people forget to do this!
Step 6: Select the "PREMIUM STARTER KIT" This is the one with 11 essential oils and the diffuser.  The other kits do not include the oils kit.  You will also need to select which diffuser you would like.  (Here is a comparison chart for the diffusers: http://static.youngliving.com/en-US/PDFS/diffuser-comparison-chart.pdf)
Step 7: Select "No Thank You" to the option to enroll in Essential Rewards. You can enroll later if you choose to. It is not a requirement.
Step 8: Click "Agree" and "Next"
Step 9: Add any oils, capsules, or products that you would like in addition to your kit if there were any.  (Suggestions to try: Valor, Peace & Calming, Deep Relief, RC, Cel-lite Magic Massage Oil).
Step 10: Check out, and your kit will be on its way!
Let me know if you have any questions or any trouble ordering, I'm happy to help!
Share and Enjoy