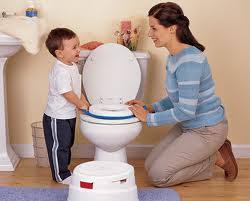 Potty Training for us has been different with every child!
Our first child was VERY easy, however, he was pretty old when he finally got it down! My second was a struggle (imagine that) and we pretty much had to make him. Our third was probably our first, somewhat "normal" experience!
First
Our first child was almost three and half by the time he was finally potty trained! We had tried when he was around three, we started reading "potty" books to him, got his potty chair out, asked him to sit on it (didn't force it), talked about using the potty, and even "invited" him to come with us when we had to go (the things you never thought you'd do…)!
He seemed interested at first, but it only lasted a day or so. He got to the point where he liked sitting on the potty chair with his clothes on, but that was it. He really seemed to be resisting, so we stopped. We tried a couple of other times, but it didn't work.
One day when he was around three and a half, he woke up, decided he was big enough, went to the potty all by himself, and he has been in underwear (even at night) from that day on! He was usually pretty good and would take care of his own accidents, but he didn't have many!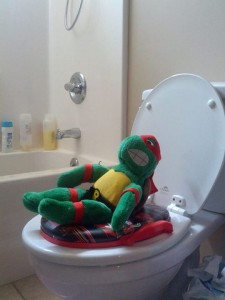 Second
Our second child, we finally just had to FORCE it on him (he was more than three and a half) . I know many experts are probably cringing, but my husband and I discussed it and we really felt that this was our only option. He is extremely resistant to change, and ever since he was little, if someone else would/could do something for him, he saw no need to do it himself (he didn't walk until he was 15 months old, although he could walk if he wanted to when he was a year old)!
So, we decided on a date (during my husband's paternity leave. I know he doesn't like change and having another baby was a big change, but we needed a time when one of us could only focus on him, so we chose this time because my mom and other relatives were in town to help), and reminded him every time we changed his diapers how many more days he had in diapers.
The night before we started, I took him to the store and let him pick out his favorite pop, favorite salty snack, and big boy underwear! For the next three days, my husband was his shadow. He ate mostly salty stuff (to make him very thirsty) and drank TONS of liquids (giving him many opportunities to practice)! He has been in underwear since that first day, although he had so many accidents I don't even want to try and estimate how many!
At first, we helped him clean up when he had an accident (but like I mentioned above, if someone else will do it for him, then he won't do it)!  When we felt like he knew when/how to use the restroom, we started making him clean up his messes! This helped out a lot! He still had quite a few accidents, and at first, it was aweful, he would sit in the bathroom and just cry, sitting in his mess. However, after a little while, he would finally decide it was important enough to take care of!
He would usually want to go and do something/join in the fun, and he was told, "Boys who have clean clothes are more than welcome to join us!" this was usually enough motivation to get him back in gear! (I did always make sure that it was a mess that he could handle on his own, if he was sick, then we helped him!) Like I said, he had TONS of accidents, but he eventually got to the place where he didn't even cry about it, he just took care of it, and I usually could only tell by his change of clothes when I was doing laundry!
Third Time's a Charm
Our third seemed very interested when we were training our second (and she was only twenty-one months old at the time), and we thought we might get lucky and "kill two birds with one stone," however, after a couple of days, she decided she wasn't ready. We didn't bring it up or really even talk about it much.
Then a couple of months after our second son was trained, she started going into the bathroom, taking off her diaper, and using the potty. I found out when I saw the diaper in the bathroom or when she had an accident, because she didn't put anything on under her pants after she used the potty. After a few days of this, I put her in underwear and she has been in them ever since!
Our biggest problem with her was the fact that she wanted to use the big potty, but still had a hard time getting on it, even with a stool (our toilets are very high and we often feel like we're falling when we use other bathrooms)!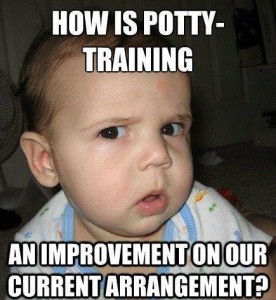 Fourth
Potty training our fourth was very similar to our second.  However, #4 was younger, but still over 3 when we started.  We noticed that he started to hide when having a BM.  We started talking to him about using the big boy potty when we changed his diapers.  We usually would ask him if he wanted to use it and he would always shake his head "no."
One day I was at the store with just him and he got a hold of a Teenage Mutant Ninja Turtle shirt (he doesn't watch the show, but he found a TMNT stuffed animal at Grandma and Grandpa's house and has been hooked ever since.)  I asked him if he would go potty on the big boy potty and he actually said "yes."  So I decided to go ahead and get him some turtle underwear and that we would try to start.  I tried to potty train him by myself, but with having three other children and being very pregnant, it wasn't successful.
When my husband had a week off, we did the same technique that we did with our second.  My husband and son were in the bathroom "hanging out" for two whole days.  Both days were horrible.  We questioned what we were doing because it didn't seem to be working at all!  He had so many accidents and really didn't seem to be getting it.  He was eating so many pretzels and drinking orange pop like crazy, and then he'd just go to the bathroom in his pants.
The second day, I went to go run errands and came back with some cookies.  We told him he could have a cookie when he pottied in the potty.  For some reason that worked.  The third day he would run to the bathroom all by himself every time he had to go.  He still had a few accidents, but almost all of them were right in front of the toilet, he just couldn't get ready in time.
It's now been a few weeks, he still struggles with having BMs on the potty.  He doesn't tell us when he has to go, he just runs to the bathroom, even if we're not at home.  It's still a work in progress.
What was/were your potty training adventures like? Any tips?
Share and Enjoy