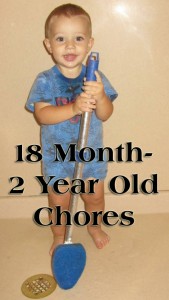 My 18 month old (OK, actually, he's almost 2, but he's been doing this stuff for a while) has started showing signs and eagerness to help out.   When the older kids are doing their chores, he grabs his own wipe and starts cleaning!
Here are some of the things that he usually does:
wipes the gate
dustbusts the floor
throws things in the trash
helps me put things in the dryer
hands me clothes to put in the washer
puts his dirty diapers in the diaper pail
dusts
put his toys away
Dance
When he does a chore, I make sure to make a big deal about it.  I will dance and sing "Yea, for Ayden he's a big helper" or "Yea for Ayden he's a super big boy."
It is so cute, he gets very excited and proud of himself.  He even will dance along with me.  We end it with a high five, knuckles, and a hug!  🙂
What are some chores your little toddlers do?
Share and Enjoy